Being the mommy of a newborn is full of sweet moments of cuddling, cooing, and tiny smiles.
But between the midnight feedings, the aches and pains of childbirth, and the anxiety that arises with every tiny cough or cry, being a mommy is exhausting, and nerve-wracking, especially in the newborn phase.
Thankfully companies have been creating products to help make raising a tiny baby much more relaxing. I won&t go so far as to say that they made me relaxed, but the items on this list of baby must haves helped to ease many of my worries.
This post contains affiliate links. That means that if you buy something through one of my links I&ll receive a small commission at no extra cost to you. I will never suggest a product or service that I don&t use and love myself because that&s just wrong. If you like reading legal mumbo-jumbo then you can check out my disclosure policy HERE.
What are the Baby Must Haves for a Newborn?
Shopping for baby gear is overwhelming. The vast amount of cuteness is enough to make any mom, or mom-to-be, lose all sense and buy the whole store. Don&t do it!
Save your money and your sanity and focus on this list of newborn supplies.
A Crib
Guess what? Your baby will eventually fall asleep, and although holding a sleeping baby might be one of the best moments of being a new mom, you&re still going to want to lay him down eventually.
At the most basic level, you are going to want a crib. I strongly recommend a convertible crib that will grow with your child.
Well cared for cribs are very easy to find second-hand, but if you do decide to buy one new and it comes with a convert kit, make sure to buy the convert kit as styles, models, and stores all change, and you want to be able to find the kit when you need it.
You never know when your crib style might be discontinued thanks to a store closing. *cough* Babies 'R& Us.
Sheets and Mattress Pad
Baby bedding is adorable, but when your baby is a newborn, baby bedding is not only a waste of money, it is unsafe.
As unattractive as it sounds, all you should ever put in a baby&s bed is a mattress, mattress pad, and a tight-fitting sheet.
Not all mattress pads and sheets are the same, so make sure to check the size, and get one that specifically fits your crib mattress.
You will want to have at least 2-3 sheets that you can cycle through in case of accidents or just regular laundering.
A Baby Monitor and/or Owlet Smart Sock Baby Monitor
The Owlet Smart Sock Baby Monitor is more of a medical monitor, and it is freaking awesome!
Rather than just observing the baby, it monitors the baby&s heart rate and oxygen levels while he sleeps. If you want ultimate peace of mind, I strongly recommend this product.
I love it so much I wrote a whole post on why it&s awesome. Check out my Owlet review here!
A baby monitor simply monitors the baby either visually, audibly, or both. Baby monitors have advanced with technology, so you will want to shop around for whatever version makes you feel most content.
Monitors are all about peace of mind. Like it or not Sudden Infant Death Syndrome (SIDS) is a real thing, and many moms feel a lot of worry and nervousness in that first year.
Purchasing a good baby monitor or Owlet Smart Sock Baby Monitor can help to ease some of that concern.
Bassinet/Pack-n-Play
Some pack-n-plays come with a bassinet attachment that can double as a changing station if needed, mine did and it was amazing!
Setting up a Pack-n-Play or bassinet in the living room can give your baby another consistent, convenient sleeping option during the day also.
Although not necessary, bassinets and Pack-n-Plays come highly recommended by new moms.
These more portable crib options are ideal if you choose to have your child sleep in your room or if you travel.
Car Seat
Even if it is only to travel home from the hospital, you are going to want a reliable car seat.
Car Seats come in a variety of sizes and styles. When picking a car seat, you&ll want to consider the size of your baby, and how you plan to use your car seat.
Car Seat/stroller combinations are great for moms who are frequently on the go or do a lot of walking. The car seat typically clicks right into the stroller when the baby is an infant, and as the baby grows, the stroller can be used independently.
This may be a good economical option as well if you are planning to purchase a new stroller anyway.
Another option is a convertible car seat.
Convertible car seats adapt and grow with your baby from infant to toddler to school-age. This can definitely be a budget-friendly option, and even if you don&t get one right away, you may end up with a convertible car seat eventually as they are great transitional seats for toddlers and kids.
I went back and forth about what type of car seat to get and ended up going with the convertible option. Though I don&t have the option of carrying my baby around in his car seat when we&re out and about, I also don&t have to worry about buying a new seat, ever.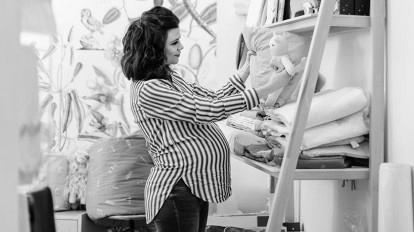 That was worth it to me. And then I just use my baby carrier and/or my stroller any time we&re out. It works great for us!
Stroller
The best stroller depends on your lifestyle. If you like walking and jogging, consider a jogging stroller with larger wheels that handle speed better.
If you are only using your stroller for walking around the mall or farmer&s market, you will want to focus more on size. You will also want to consider storage space and handle height.
There is nothing worse than a stroller that is too short!
Also, make sure your stroller is not huge when it is folded up. Strollers are super useful, but if your stroller doesn&t fit in your car or up the stairs to your apartment, you aren&t going to use it.
Pay attention also to how heavy it is. Some strollers are massive and if you can&t carry it one-handed, you&re going to run into some issues.
Lastly, stroller price varies greatly, and if you are only planning to use your stroller for occasional outings, second-hand strollers are very easy to come by at an affordable price.
If you live in the city, however, and your stroller is going to be your lifeline to the outside world, it is perfectly reasonable to get a really nice, maybe even pricey, stroller to make your commute easier. No judgment from me!
Baby Carrier/Wrap
Hands-free baby carriers may be one of the greatest gifts ever given to moms.
Using a baby carrier, you can both hold your baby, and clean the house, do some grocery shopping, or just have a dance party in the kitchen. Baby gets to continue with cuddle time, and mommy gets to both soothe the baby and feel productive, it is a win-win for everyone.
When picking a baby carrier, consider the baby&s comfort, size, and usability. You want to be able to get your baby into the carrier quickly and efficiently, and you want to feel like your baby is safe without danger of suffocation or overheating.
When it comes to baby carriers or wraps, try lots of options. Ask friends to borrow their wraps, so you can try them out before purchasing.
What works for one mom doesn&t work for every mom, and you want to make sure that you are getting something you will use.
I personally used the ErgoBaby 360 and freaking love it! I&m not nearly skilled enough to deal with one of those fancy wraps so this was a perfect option for me.
It&s also really convenient if you&re planning to do a lot of traveling with your baby. Getting this thing on and off in a tiny airplane is some much easier than some of the other options I&ve seen. Just something to keep in mind.
A Place to Sit (Swing, Rocker, Bouncer)
Babies are experiencing the world around them for the first time, and sometimes they are very content to just sit and watch. As a new mom, you will want somewhere safe when they can lay and just be.
You have a couple of different options when it comes to giving your baby a place to sit, and different moms (and babies) like different options. I loved using a bouncer because it was easy to move from room to room. I even placed it on the floor of the bathroom when I was taken a much-needed shower.
Some babies love swings, others don&t like them at all. Some like rockers or machines that sway and bounce, but other babies don&t seem to like that kind of movement. As with the baby carriers, this is an area where borrowing before purchasing is highly recommended.
Rocking Chair
When it comes to rocking a baby, not all rocking chairs are created equal. You&ll want to choose one that has high enough arms to allow you to rest comfortably, but you may want to stay away from wooden arms for comfort reasons.
Nursery gliders are built with ottomans that allow you to put your feet up while rocking or nursing your little one. The other benefit of a nursery glider is the ease in which you can get into and out of the chair while making minimal noise.
Since nursery rockers are not commonly used after babies reach a certain age, I see a lot of them on Facebook Marketplace, Craigslist, and in consignment stores. Buy used, and save money on this item, but take the time to give any upholstery a good cleaning since you are going to spend a lot of quality time in this chair cooing with your newborn.
Clothes
Keep clothing for newborns simple- go for zip-up sleepers and basic onesies. You can dress up your baby as much as you want in little dresses and jeans, but always consider the comfort of your baby first.
When picking clothing, you also want to remember that you will be changing diapers at least every two hours if not more frequently, and buttons will not be your friend when you are sleep deprived or the baby is hungry and screaming.
Diapers and Wipes
Whether you are into cloth or disposable, diapers and wipes are a necessary part of motherhood, and during the infant stage, you are going to go through a lot of them.
Newborns are changed minimally every 2 hours, so you are most likely going to change at least 12 diapers a day, and that doesn&t count unexpected blow-outs.
If you use disposable diapers, consider taking advantage of sales. Target, for example, has great diaper sales where you can get a $20-$25 gift card for a $100 diaper purchase. Stock up during those sales, and you will save a lot. Also, don&t be afraid to go generic. To keep your cost down, try out different diaper brands, and figure out what works best for you.
As for wipes, err on the side of caution and start with a gentle or fragrance-free brand. Adapting to life on earth is hard on your baby&s skin, and you&ll want to be as gentle on his skin as possible.
A Baby Changing Station
Speaking of all of those diapers you are going to be changing…you&ll need somewhere to change them. Take the time to equip a diaper changing station with diaper cream, diapers, wipes, and a changing pad.
Changing tables are great for when babies are young and if you plan to have more than one baby, but if you are looking for a more economical option, a dresser with a changing pad on top can work well and be multi-functional as your child grows.
If you choose to use a dresser as the base for your diaper changing station, make sure the dresser is deep enough to hold the changing pad and follow all the basic safety precautions to make sure your baby doesn&t roll off. The dresser can also double as…you guessed it. A dresser! How handy is that!
Diaper bag
Your needs in a diaper bag will change as the baby gets older. While he is an infant, your diaper bag will hold a ton of diapers, wipes, and extra outfits. Once your baby becomes a toddler, your diaper bag will become the home to toys, snacks, and lost crayons and socks.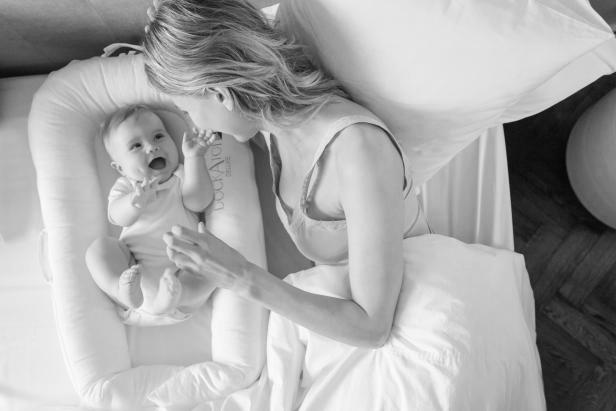 If you breastfeed, you will want a diaper bag that is big enough for a small cooler or equipped with an insulated pouch for storing breast milk.
Although diaper bags come in all shapes and sizes, a diaper bag could be a large purse or a backpack. You will carry this bag around a lot, so make sure that it is easy to carry, fits in your stroller, and has plenty of storage.
Bathtub
I&m just going to say it. Wet babies are slippery little suckers. To make bathtime a little easier get a baby bathtub.
Baby bathtubs sit down in a standard bathtub, on the counter near a sink, or the floor of a shower. A baby bathtub will make bathtime a lot easier and safer for your little one because the amount of water around the baby is controlled.
Just as important as the bathtub, is the bathing station. Put together a little basket or tote that includes small baby washcloths, a towel, and baby shampoo. This is also a great place to keep your cradle cap brush as after bathtime is one of the best times to gently comb away that cradle cap. Don&t know what a cradle cap brush is. Check out my post on this subject!
Burp Cloths
Babies are messy, disgusting little things, and they have the absolute worst timing. Having burp cloths readily available is an absolute must for new moms.
When picking out burp cloths focus on absorbency, size, and number per pack.
If there is one thing I&ve learned about baby items it&s that sometimes the cutest items are not always the most helpful. Make sure the burp cloths you choose are made of a material that soaks up messes and are an appropriate size. You don&t want to have to switch out a burp cloth every time the baby spits up, but you also don&t want to carry around a burp cloth the size of an adult towel. Aim for something the size of a hand towel and have at least two on hand at all times.
My absolute favorite are actually flat fold cloth diapers. They&re cheap, absorbent, not too large, and I&m not worried about throwing them away if they get really disgusting. I use these suckers for EVERYTHING!
Humidifier
Depending on your climate and the time of the year, humidifiers are a must for a lot of first-time moms, especially if you live in a climate where the air gets dry.
A well-chosen humidifier running in a baby&s room at night can help to break up mucus in the babies air passages which can help the baby stay healthier and allow him to sleep much more comfortably.
Since some pediatricians don&t recommend the use of lotions and moisturizers, a humidifier is also an excellent way to keep a baby&s skin healthy and naturally moisturized. Between you and me, the white noise of the machine running doesn&t hurt either.
Bulb syringe
Yes. That gross little ball thing that they use to get the snot out of your baby&s nose is actually a must-have item for newborns.
Babies get a lot of gunk up in their noses and their nasal passages, and they can&t just blow it out on a kleenex like we can, so they need a little help.
A bulb syringe or nasal aspirator is a safe way to gently clean out the baby&s nose and is best kept at your diaper station as it is frequently used in the mornings after the baby has been sleeping.
Note: many hospitals will send a bulb syringe home with new parents, so be sure to check with your delivering hospital before buying one new. The hospital ones also work a lot better than most other store-bought ones.
Thermometer
The health of her baby is the most important thing to a new mom, and being able to take a baby&s temperature quickly and efficiently is part of the peace of mind a new mom needs to maintain her sanity.
When choosing a thermometer, you have to know that rectal thermometers are typically the most accurate for infants under 6 months, but they are not convenient, especially if your baby is all swaddled up and sleeping. Luckily you have a couple of other options.
Digital ear thermometers are not as accurate, but if your baby has a soaring temperature, you are going to know. Ear infections can mess with the accuracy of this style of thermometer though, and sometimes in my own experience, an ear with an infection will read much higher than the other ear.
Another option is a digital forehead thermometer. Again, this is a less accurate measurement tool, but it is the least intrusive and will give you a general understanding of your baby&s temperature.
You can also use a standard thermometer under your baby&s arm in his armpit. It isn&t as accurate as the rectal, but a little more so than the ear or forehead options.
Laundry detergent
Considering the delicacy of a baby&s skin, you want to
be very careful about what you expose it to. Your everyday laundry detergent may be harsh on your baby&s skin, so you&ll want to look for natural or baby-specific brands when your baby is really little.
Special detergent will not always be necessary. As your baby gets older and more familiar with the environment, you may be able to introduce other detergents, but do so with caution, and watch your baby&s skin closely for a couple of days for any signs of irritation or allergic reaction.
Soothing Items: Yoga Ball, White Noise Machine, Swaddles
When you go to your newborn parenting class, the instructors always talk about the "5 S&s" for calming a baby down-Swaddling, Shushing, Side/Stomach Lying, Swinging and Sucking.
I can tell you honestly that there comes a time when I just couldn&t shush any more. That is where a white noise machine comes in handy. These machines range from large, light-up contraptions, to small microphone-looking things that clip onto car seats. Any or all of these options may be desirable when you have shushed your lips numb.
Many pediatricians and nurses will tell you that although swinging works better for the "S" alliteration, a lot of times the swinging ends up being more of a bounce. Like with shushing, a new mommy can only stand to bounce so long, and some babies need the constant bouncing to stay asleep. This is where the yoga ball comes in. You&ll want it to help with gently bouncing the baby for long periods.
My kid absolutely LOVED the yoga ball. It could get him to sleep, or at least calm, every single time.
Lastly, the swaddle. Oh, my sweet sweet swaddle. Swaddle sacks or swaddle blankets are used to help babies stay cozy and safe and simulate the tight space of mommy&s womb. A swaddle, when used regularly, can calm a baby down, help him sleep better, and help him to sleep longer.
Swaddle blankets work well if you are good at wrapping them, but swaddling is an art form, and swaddle sacks are much more convenient and get a much tighter hold. The last thing you want is baby wiggling his little foot out, or expending too much energy trying to get his hand up by his mouth.
What Items Do You Really Need for a Baby?
All mothers have their go-to items, and the ones on this list are mine.
As you are purchasing items to help with your newborn, consider your house, your lifestyle, and what will make your life easier. Some moms prefer to have multiple bouncers in different rooms of the house, some don&t like the idea of swaddling or using disposable diapers, and others swear by convertible car seats, but you will find out what works best for you as you begin to consider your lifestyle.
Comment below with your must-have baby items, or join in on this conversation in my Facebook group to see what other moms have on their must-have lists, and to get more details on specific brands other mommies are swearing by.
Must Have Items to Make Breastfeeding Easier

Preparing for a Baby, the Easy Way

Easy Ways to Prepare for a Baby on a Budget

The Complete Guide to Packing Your Diaper Bag