Heads up, teens, this stage of your life is JUST as hard on us as it is on you…
This post: Hey Teens, Enough About You. Here's What Your Parents Need
As a mom, I love my kids more than life itself. They truly are my world and nothing matters more to me than their happiness, safety and well-being.
But I'd be lying if I didn't admit that being a parent to my kids is also the toughest job in the world. Rewarding and wonderful, yes… but tough.
At a time in my kids' lives when they're going through massive hormonal shifts with a moodiness that takes nerves of steel to understand and tolerate and a "Me Mode" that I've been told is totally normal, (all while trying to raise them to be responsible, well-adjusted, compassionate human beings), I find myself giving my all to them day in and day out… and, it's freaking exhausting, both physically and mentally.
What makes it particularly hard (for me, anyway) is that everywhere I turn, I find articles and social media posts about how I'm supposed to be tolerant, patient, and understanding of what my kids are going through. Google tips on parenting teens and you'll likely find more than a few "gentle parenting" posts. And, I'm ALL for that. We SHOULD do our best to be what our kids need during this tumultuous and transitional time in their lives.
But, I can't help but think… what about us parents? Don't we need a heaping spoonful of understanding and patience? Don't we need to toss out a few reminders to our kids that this stage of their lives is just as hard on us as it is on them? I'm all for gentle parenting but, what about gentle "teenagering?"
So, heads up teens, if you're listening, here are a few things your parents need from you.
Hey Teens, Enough About You – Here's What Your Parents Need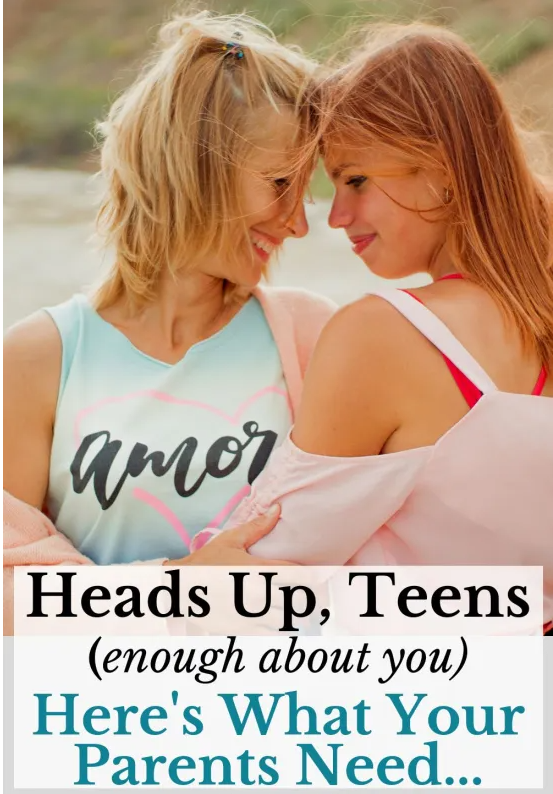 #1 A Break
You're getting older. You're fully capable of making your own snacks and meals, doing your own laundry, and if you're driving, running your own errands. Don't get me wrong, we love doing things for you and putting a smile on your face, but we're in desperate need of a break. And, we're not just talking about the physical demands of parenting.
We need a break emotionally, too. It's not our fault you can't find your shoes, that you failed your math test, that you hate your part-time job or that you despise the rules and boundaries we put in place to keep you safe and on the right track.
Every decision we make, every rule we put in place, every chore we make you do, and every hard lesson we make you learn on your own is for your own good. We always have your very best interest at heart. We always worry about you (we have the circles under our eyes to prove it) and we pray about you far more than you know. You may not see it or realize it now, but one day you will. Until then, cut us some slack, will ya?
#2 A Little Appreciation
We're not looking for a standing ovation at the end of the day, but a little appreciation goes a long way in making us feel valued and appreciated. The next time we volunteer to be the designated driver, instead of hopping out of the car without saying a word or tossing out a flippant "Thanks," try saying something a little more sincere like "Thanks so much for driving us, mom, I know you're tired." And, the next time we go out of our way to run an errand for you because we know you're stressed or we make you your favorite meal because we know you had a hard day try saying, "This really means a lot to me… thank you."
We get it. You're kids. We get that you're still learning. But little do you know, we're constantly thinking about you, your needs, your happiness, and your well-being. When we feel appreciated, we want to give even more. When we don't, we start to feel taken advantage of and even resentful. Bottom line, just take the time to make us feel seen and heard, just like we do for you.
#3 For You to Realize That We're Doing Our Best
We're human. We make mistakes, we stumble and fall and, just like you, we get confused about what steps to take next. No one handed us a parenting manual when we took you home from the hospital and with each passing year, the consequences of our parenting decisions (and yours) become higher.
Just know, we're going to make mistakes along the way… lots of them. We're not perfect and neither are you. We're learning and growing right alongside you and we definitely don't have this parenting gig all figured out. We really are trying our very best to be the parent you need.
#4 Time with You
We know you need your space, we get that. We know you're growing up and pulling away, we're accepting that. We know you don't need us quite as much as you once did, we're slowly coming to terms with that. But little do you know, nothing has changed with us.
We've spent the better part of our lives raising you and now, we sometimes feel tossed aside and left out of your life.
When you lock yourself in your bedroom for hours, we cry a little on the inside. When you choose friends over family, our heart hurts. When you act like we don't matter, we wonder where we went wrong. It's so very hard on us, please know that. Just give us a little time with you. A little time to soak you up, study your face, hear you laugh, and relish in the fruits of our labor.
Whether you plop yourself on our bed late at night and chat with us a while or you agree to run a few errands with us, we hope you know that time with you – no matter how brief – fills our hearts to the absolute brim.
#5 To Feel Your Love
When you were little, you'd wrap your arms around us and tell us you were never letting go. You'd wait by the door for us when we left to run an errand and run to us when we returned as if we'd been gone for days. You'd snuggle up with us on the couch, lay your sweet head on our lap and drift off to sleep. We miss those days terribly…
Even though we know we can't revisit the days of your childhood, our heart still needs to feel your tenderness, warmth, and love. One day, when you're a parent yourself, perhaps you'll understand.
Until then, sweet child, let us hug you. Let us snuggle up next to you on the couch every once in a while when we're watching a movie together. Let us come into your bedroom every now and then and sit on the edge of your bed while you share tidbits about your day and your life. We want to be part of your world. We want you to share your lives with us. Mostly, we just want to feel your love.
Growing up is hard, we surely know that. But raising you isn't a cakewalk either. As much as you need our patience, understanding, tolerance and love, we need yours, too. If you can be there for us as much as we're there for you, we'll get through this crazy time in our lives together and come out on the other end stronger and closer than ever…