This post may be sponsored or contain affiliate links, which means we may receive a small commission, at no cost to you, if you make a purchase through a link. Read the full disclosure.
Admit it.
Breastfeeding can be hard in the beginning.
Although it is supposed to be a natural thing, new moms often experience quite a learning curve in the early stage.
Want know how to make breastfeeding easier?
Let me give you the very first hint.
Information is your ally.
The more you know about breastfeeding, the more you will be prepared.
And today, I would like to help you get ready for your breastfeeding journey.
In this article, I'll share 30+ breastfeeding tips for new moms like you.
This list has been compiled from suggestions coming from popular lactation consultants, medical professionals, fellow breastfeeding moms, as well as my own experiences as a breastfeeding mom of 2 children.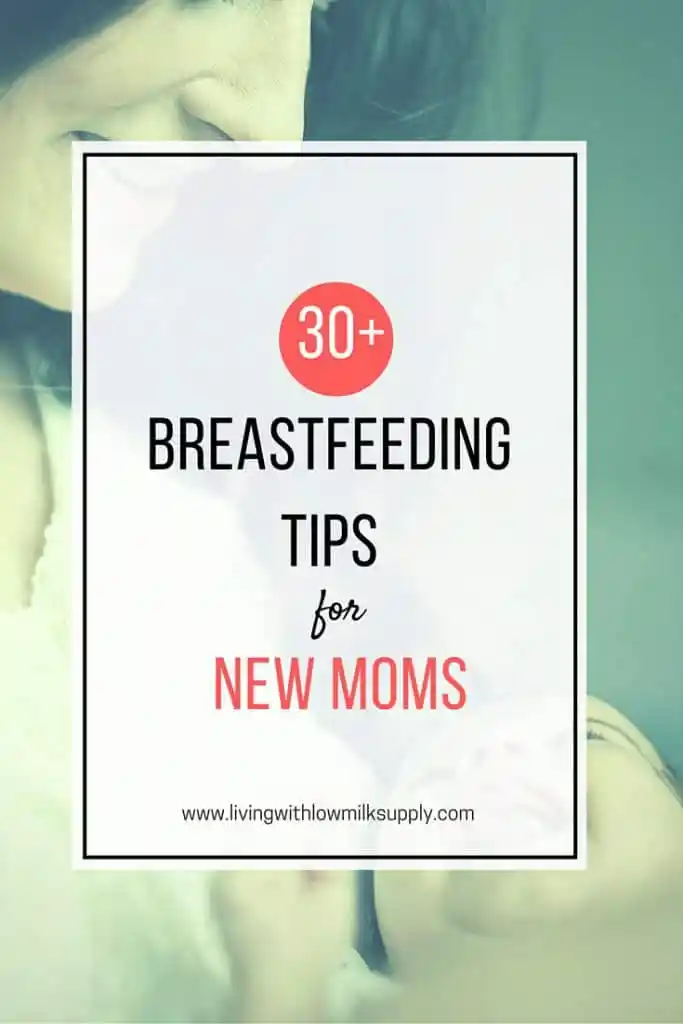 Read on…
Attend a breastfeeding class with your spouse. This is the fastest way to get your husband understand the major things about breastfeeding. The interactive nature of the class will make it easier to digest the information, we got opportunities to ask and clearing doubts. Trust me, it's way easier than asking him to read breastfeeding book or online articles. Click here to learn where to find breastfeeding class nearest to you.
Have a breastfeeding book or two as references. It is easier to refer to a book than relying on sometimes conflicting suggestions in online articles. Here are some of my recommendations to get you started.
Download breastfeeding apps in your phone.

LatchME is especially good because you can locate nearby breastfeeding-friendly places and local lactation consultants. It also got a forum to let you interact with other nursing moms.
Breastfeeding Solutions, on the other hand, is very handy to help you navigating your breastfeeding problems.

Planning to give birth in hospital? Find a BFHI (baby friendly hospital initiative)-certified hospital if possible. These hospitals conform to 10 conducts that will support your breastfeeding right from the beginning.
Invest on some nursing bras / nursing tops to make breastfeeding easier. These apparels do not need to be expensive. If you are crafty, you can DIY some of them.
Aim for natural, un-medicated birth. Some labor-related medications / intervention can hinder early breastfeeding process and may affect baby's alertness or suckling reflex which is necessary for breastfeeding.
Aim for skin-to-skin contact right after birth. Early skin-to-skin contact, ideally done within 30-60 minutes after birth, has been known to have positive correlation with breastfeeding success.
Practice rooming in with your baby, so that you can learn your baby's hunger cue faster and you have the maximum opportunity to breastfeed your baby as often as possible.
Learn your baby's hunger cues and start nursing him as early as possible. Don't wait until he screams madly, it will be difficult to latch a mad and impatient baby.
Ensure that your baby latches correctly. A correct latch is critical to make sure that milk is removed effectively from the breast. Your baby should not only take your nipple but also (part of) your areola.TIPS: To start a good latch is to aim your nipple to his nose, and bring the baby to the breast when he opens his mouth wide.
Nipple tenderness / soreness is common during the early days of breastfeeding. But if the pain continues persistently or even worst, seek professional help immediately.
Nipple cream is a great companion during the first few days of breastfeeding (you can also use coconut oil for a more natural remedy). But after your milk is out (not colostrum anymore), slathering your nipple with a little bit of breast milk will make it heal much faster.
Newborns nurse very frequently, typically around 8-12 times in a day. Additionally, it is is very common to have a cluster nursing, whereby your baby seems to nurse non-stop for 1 or up to 3 hours in the evening.
TIPS: Get a good-quality nursing pillow so that you can comfortably breastfeed your baby for long period of time.
A healthy baby will tell you when he needs to nurse and that's why the general suggestion is to nurse baby on demand. But sometimes, a newborn is too sleepy and not interested in nursing / falling asleep easily at breast before getting enough milk. In this case, you should wake your sleepy baby up so that he nurse frequently enough. Changing diaper, undressing, and switching breast are common ways to wake up your sleepy baby.
Except when dealing with sleepy babies (where you need to wake him up to nurse more), no scheduled -feeding, please. It is entirely fine if your baby wants to nurse again despite having just nursed an hour ago.
Please know that every baby-mother couple is unique. Don't envy your friends just because her baby is nursing less frequently than yours. There are so many factors that may affect how long and how frequent your baby nurses, such as baby's personality, mother's breast storage capacity, and so on. As long as your baby is thriving and gaining enough weight, you are doing fine. Read more details about this in Nancy Mohrbacher's book: Breastfeeding Made Simple.
Not every baby's cry is because he wants to nurse / needs more milk. Dirty diaper, too hot / too cold, gas in the tummy, and too much light / stimulants are some of the common reasons of baby cries. Make sure your baby is comfortable first before concluding that the cry is because you don't have enough milk.
Avoid using pacifiers in the early days. Pacifiers may prevent your baby to tell you that he's hungry and need to nurse. As a result, the baby is nursing less and your breast does not receive enough stimulation to produce adequate milk.
Pumping will not give you a good measure of how much milk your baby gets. If you are worried whether your baby is getting enough milk, check his diaper counts and weight gain instead.
Find out your most comfortable breastfeeding position. Remember that what is comfortable for your friend may not be comfortable for you. Don't be afraid to try out a new position, even though it is rarely practiced. Breast is round and can be approached from 360-degree angles as long as the baby does not cover the mother's face.
Learn to breastfeed while lying down will make breastfeeding at night a breeze. I learned it the hard way. With my first baby, I was so afraid to breastfeed in lying down position while my baby kept nursing on and off at night. I ended up having to sleep at the armchair for his first 1 month. Definitely not a good way to get enough rest. With baby no 2, I learned nursing while lying down right away while still in the hospital. It took a while to master it, but by day 4, I was able to sleep lying down again and still nursing my baby.
Focus on your baby and yourself for at least the first two weeks. Accept helps from your surroundings. Let your spouse (or parents) take care of other things (laundry, cleaning, food), while you focus on the new baby.
Be surrounded by a good support group. Write down at least one contact number of the nearest lactation consultant, just in case you need to contact her later on. Make friends with fellow nursing moms so that as soon as you meet a problem, you can ask around quickly. A good support group can also prevent you from falling into postpartum depression.
If you need to supplement, please remember that this is not the end of your breastfeeding journey. Breastfeeding is not all or none. Every drop of breastmilk is precious and will do wonder for your baby.
The best way to supplement your baby is to use at breast supplementer, or spoon-feeding / cup-feeding. Avoid bottle-feeding because it may lead to nipple confusion and breast refusal.
If you need to pump in the early days, use a good hospital-grade breast pump to help you establishing your milk (here's my recommendation). Double pump 10-15 minutes after feeding will speed up your effort in building up your supply.
Hand expression (marmet technique) is especially useful to fully empty your breast and extract out all those colostrum.
Do remember that pumping is a learnt skill, you may get only a few drops or even nothing at first, but will practice and consistency, you will get more and more milk.
Life with a newborn can get pretty busy. Nap when your baby naps to catch enough rest. And don't forget to eat healthy diet and drink to thirst.
Remember that correct latch and frequent nursing are the basic keys of establishing a good milk supply. But for additional boost, you can also consume lactation-booster food/supplement. Fenugreek is exceptionally popular among nursing moms, while nursing tea may help you to provide extra relaxed feeling.
Once you get the hang of breastfeeding, I recommend you to learn how to carry your newborn in a baby carrier. It frees up your hand, and this skill is very useful especially when you have elder children to look after. A ring sling is a great newborn baby carrier. And once you master baby wearing, do learn to nurse in the carrier. It is such a life saver especially when your newborn wants to nurse all day long and you don't need to be confined in one place just because you are breastfeeding. Here are my recommendation for breastfeeding-friendly baby carriers and some tips to master breastfeeding in a carrier.
---
I hope these tips will help you preparing for breastfeeding your little ones.